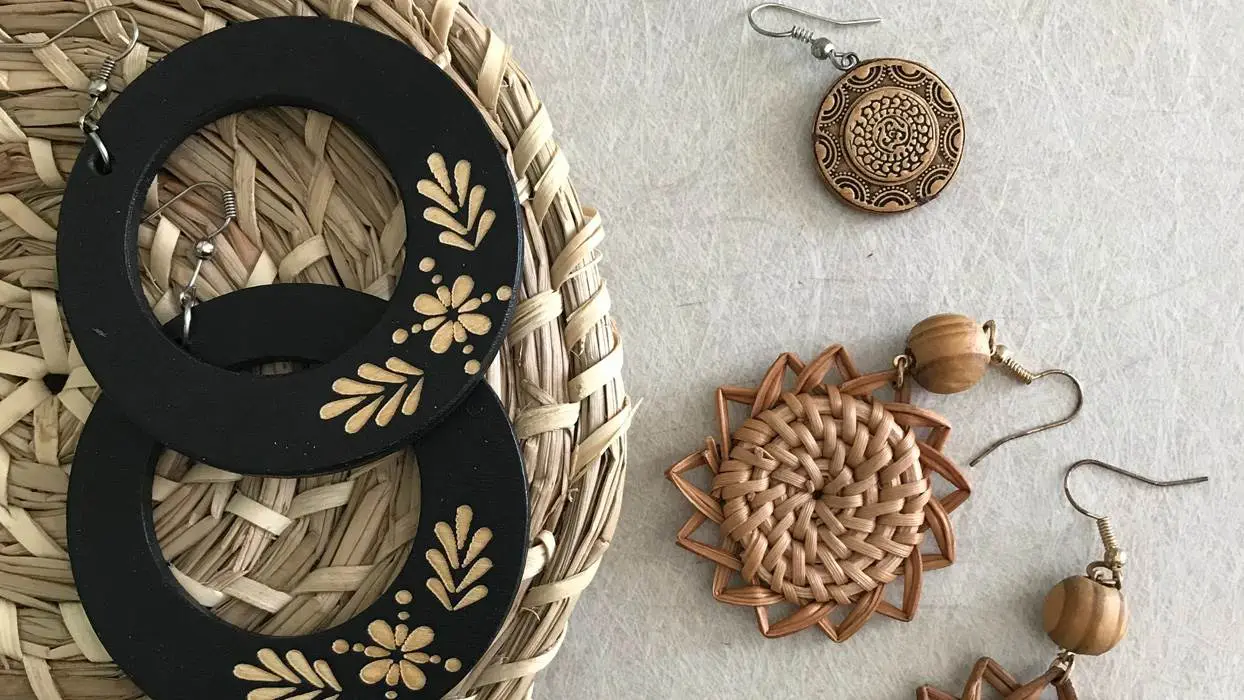 Imitation Jewellery
Since the dawn of time, earrings have been popular. Earrings are the classic no-fuss jewellery item, letting you look put together but not overdone, whether they are understated studs or stunning dangles. There is a vast range of shapes and designs available, ranging from classically chic to contemporary and edgy. These include simple studs, complex chandelier earrings, and dangle drop earrings that are studded with transparent, multicoloured, or black gemstones.
Each style of jewellery has its own set of qualities and charm, as well as preferred backing materials and even ear placements, whether it be delicate and discrete pieces, bouncy and extravagant earrings, large statement pieces, or industrial barbells.
In this article we've got the fundamentals on all the various kinds of earrings that we have covered for you. From more traditional earrings like diamond studs and gold hoops to more contemporary forms like ear cuffs and threaders.
Chandelier Earrings have an elaborate crystal chandelier-like form. They are one of the huge dangling types, with a base on the lobe (a stud, wire hook, or clip-on), and intricate filigree accented by gemstones such as diamonds, pearls, colourful gems, rhinestones, and more. The most opulent of all earring designs, chandelier earrings radiate elegance and femininity.
The Middle East, Greece, and India are where chandelier earrings first appeared. The oldest artifacts were found in Greece which date back to the fifth century B.C. These vintage chandelier earrings have gold filigree designs with tiny shell lockets.
Cluster earrings are made up of multiple stones or jewels that are arranged in a cluster and are designed to sit easily on top of the earlobe. These ornamental earrings can be stud-style or have a very small drop.
Cluster studs are a modern take on traditional studs that lend extra glitz to any outfit. Cluster earrings are more intricate than basic studs and are made to make a stunning impression.
Dangle earrings hang down below the earlobe in a manner akin to the drop earring. Compared to drop earrings, dangle earrings frequently have more elaborate designs and movement.
Dangle earrings are exactly what their name implies—dangle. Dangle earring kinds are distinguished by their constant movement (unlike their cousins, the drop earrings), and they are never still. The majority of the pieces fall within this category; nevertheless, some more delicate pieces with thin chains also fit the bill.
Dangle earrings can range in style from basic chains to tassels to elaborate gem-encrusted designs, and they hang below the earlobe. Longer patterns are frequently referred to as "shoulder dusters" since they can touch the shoulder and even the collarbone.
Drop earrings are any earrings with a longer, slimmer design and typically a gem at the bottom, hence the term "drop." A delicate drop earring may be the perfect choice if you want something that is still simple but has some length to it.
A stationary earring design that hangs down below the earlobe, similar to an extended stud earring, is the principle behind all the styles that are offered on the market.
Whether it's a pearl, diamond, or coloured gemstone, the majority of drop earring designs have just one stone. Their exquisite length makes up for their typical simplicity, minimalism, and lack of ornamentation. Several trends are dangle and movable.
One of the newest, trendier earring designs is the ear crawler. These earrings start from the bottom of the ear and work their way up, as opposed to dangling downward.
Crawlers are undoubtedly fashion statements that may be worn as a pair, paired with a daintier earring in the other ear or even alone. There are many styles to choose from, including items with jewels, flowers, stars, or leaf designs.
Since they are dramatic jewellery pieces that aren't intended to be hidden or to be covered, crawler styles look best when worn with shorter hair.
Ear threader earrings have a more contemporary, minimalist design and are made of a thin metal piece that passes through the piercing and hangs on either side of the earlobe. 
The threader earrings are dangle and move with you because of their slender design. In essence, threaders have a long post that has two functions: style and safety. There are also fixed, non-dangling, and non-chain threader earrings available in the market.
Hoop earrings have a circular pattern and loop around the ear from the front to the back. Although hoops are typically round, they can also be oval, square, or triangle-shaped, and can be modest to quite enormous. Smaller hoops produce a subtle appearance, while wider hoops produce a dramatic impression. Choose a set of in and out diamond hoops for a glitzy appearance.
In Africa, specifically in Nubia during the fourth century, hoops were originally worn. Both men and women wore hoops in ancient Egypt, where they were also very fashionable.
Huggie earrings wrap themselves easily around the earlobe. Huggies are little hoops of jewellery having a slight charm. Instead of hanging below, these earrings hug the earlobe. They have a circular shape (like traditional hoops) and sometimes have a C shape.
Huggies are more adaptable and simpler to wear with a variety of hairstyles than huge hoops. For individuals who desire the appearance of hoop earrings without the possibility of their catching or snagging, these miniature hoops are perfect. They can be basic (all metal) or adorned with a range of precious stones.
Jacket earrings are a modern and innovative creation in which the greater portion of jacket earrings is typically found behind and under the ear. They frequently have a latch or a gem in the front. This particular earring design is intended to dangle down below the earlobe, giving the appearance of a joyful peek-a-boo.
Although more complex designs are also available, the majority of styles have a straight forward stud in the front, like a zirconia or pearl stud. The area that pokes from behind is more detailed and features floral, star, or leaf motifs. Some people could refer to them as elevated studs since they are a more complex version of a stud that has a distinctive design, adds extra glitter, and creates visual appeal.
Stud earrings often have a modest size and rest snugly on top of the ear lobe without falling, looping around, or climbing up.
Studs are easy to wear and go well with any clothing. They often have a simple style. Due to their simple design, stud earrings can be in many forms; the most common shape is the round. They often display a single gem in a variety of cuts such as diamonds, pearls, or other gemstones, though occasionally a design with a cluster of jewels is seen. While the square, heart, and pear cuts are also common, diamond studs are typically made with round diamonds.
One of the most popular kind of earrings and a fixture in every jewellery box are diamond studs.
Final thoughts: 
Earrings can completely transform a look. And they have been carrying out this activity for a very long time. Depending on the situation, elegant options include a subtle and dainty touch of glitter, a hanging pair that dances with you, or an edgier cuff.